You might have seen it while browsing the Internet:
a window pops up telling you that your computer is infected. It offers you to clean your computer up from spyware and viruses.
Another version asks you to download Antivirus 2010 (or 2011) for free.
Last year the similar Antivirus XP was available to be downloaded for free.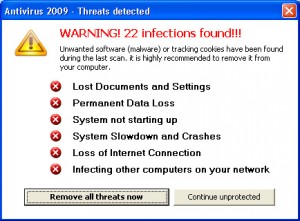 Those of you who were suspicious about this were lucky.
Others who follow the invitation got to know later that they actually installed a Trojan Horse by clicking on this advertisement.
This way thousands of people infected their machines and were not able to remove it themselves. It does not only prevent the user to visit websites like symantec.com or mcaffee.com; if you try removing it without expert help and specialized programs, it turns up again and again.
Don't hesitate calling us at 928-300-7116. We know how to handle this program and remove it safely.
Remember to backup your files regularly! We use a secure online backup that is free up to 2GB!