Online stores tailored for your needs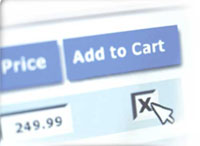 We have been building online stores since years.
Starting from one item stores to various thousand products — we do it all.
Building an online store requires a lot of experience in the planning ahead, for example:
Which software to use?
Static or dynamic pages?
National or international shipping?
With which carriers?
Downloadable products?
State tax to be paid?
Credit Card payment, Google or PayPal checkout?
What about COD?
Editable by the owner?
QuickBooks integration?
Easy product upload?
Search engine friendly?
Submission to Google?
We have created several online stores, have a look at:
www.mysticalgift.com ( 1,000 items)
www.oshostore-sedona.com ( 6,000 items)
www.businessskillspress.com (simple PayPal solution)